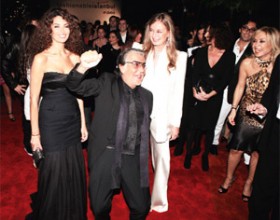 World-renowned fashion houses Roberto Cavalli, Gianfranco Ferré and Salvatore Ferragamo took part over the weekend in an international fashion event in İstanbul, Fashionable İstanbul By Avea, which plays host to the world's fashion giants.
Cavalli and Ferré unveiled their 2009-2010 autumn-winter collections at the event, held on a platform raised above the Bosporus at Dolmabahçe Palace on Friday and Saturday evenings, respectively. The Ferré collection received a resounding applause from the audience.
State Minister and chief EU negotiator Egemen Bağış watched the show with his wife, Beyhan Bağış. Responding to questions after the show, Bağış said: "These events are proof of Turkey's European identity. The fact that Europe's designers have come to our country at the edge of Europe indicates that Turkey will secure its rightful place in EU."
Turkish fashion designer Yıldırım Mayruk also expressed pleasure over the organization of an event in İstanbul similar to those held in Europe. "Of course I liked the show. All of them [the designers] are world giants. I am glad to watch these giants. Ferré is a fashion designer who I greatly appreciate," he said. The Ferré show was followed by one from the house of  Salvatore Ferragamo, whose founder is known as "the designer that shaped shoe design." Ferragamo's collection also received great applause at the end of the show.