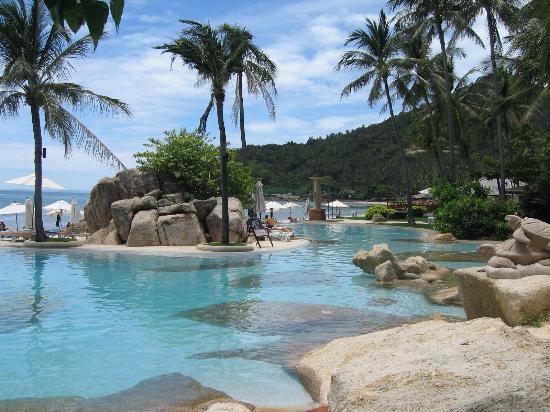 Though Indonesia Earthquake hit the region hard, thousands of people visit Koh Samui for its resorts, hotels, waters, full moon parties and underwater life and it is the only island Tsunami can't reach.
According to a report at NationalTurk, Indonesia earthquake hit the region in the Far East and the paradise islands hard, not devastating but still hard yet one island on the Indian Ocean was not threatened by the possible tsunami threat. Koh Samui is the safest island in the region and the only island Tsunami cannot reach since it is located within the Gulf of Thailand, and thus protected from the tsunamis that may again one day come across the Indian Ocean and the Andaman Sea. The southern Thailand peninsula and Malaysia are barriers for Koh Samui to the fear of Tsunami.
After the 8.6 and 8.2 magnitude earthquakes and issued Tsunami alerts travellers and tourists flock to Koh Samui, a paradise island Tsunami cannot reach.
Koh Samui had also not been affected by the Tsunami that devastated many parts of Asia in December 2004 earthquake, which claimed the lives of more than 250 000.
In light of its spectacularly azure Bay of Thailand with their crystalline waters and coral reefs, rich animal and plant life, top-notch resorts and intense Full Moon party scene, Koh Samui has set itself apart as one of Thailand's most popular island resort destinations. There's plenty to do in the towns or Samui resorts as well as outside of them. On the water, underwater and in the mystical forests you will be amazed what Koh Samui offers you in abundance.
The monthly Full Moon parties that take place on a neighbouring island are an absolute must be for all full-throttle party people. All of this together makes for a first-class holiday in one of Thailand's most coveted locations.
Here is why Koh Samui (Samui island in local language) is a must see
Temple of the Big Buddha
Wat Phra Yai is Samui's Temple of the Big Buddha, with its signature 12 metre tall Buddha statue. Built in 1972, this iconic temple sits on a little island that is connected to the main island by a bridge. The temple grounds also house a centre for meditation, another draw for inspired visitors. When visiting any temple in Thailand, it's important to follow the standard rules of dress and etiquette which includes wearing long pants, sleeves and removing your shoes before entering the actual temple.
Koh samui beaches
The beaches of Samui are its greatest attraction, and each one is known for its own specific qualities. Ao Tong Takian is also called Silver Beach due to the glimmer of its sand and shimmering water; Lamai Beach is a popular family destination in light of the abundant water sports and activities; Choeng Mon offers higher-class accommodation in a remote setting and Chaweng Beach rallies as the most popular among tourists, with its peripheral of exciting activities like Muay Thai boxing and bungee jumping.
Thai food on Samui Island
Nothing beats an evening at a beachside restaurant where you can enjoy a laid-back dinner right at the water's edge. Samui's fresh seafood makes way for all kinds of top-notch cuisine–be it gourmet Thai food or international fare. More authentic and highly affordable Thai food can be hunted out on the streets from local vendors, and in the opinion of the locals ' the spicier the better.'
Partying and nightlife in Koh Samui
The Thai tourism industry has paved the way for a varied nightlife that spans all the major developed districts. Clubs can be found at Lamai Beach, with tourist-grabbing exhibitions and shows to hold your interest. This is also the seedier side of the island with its fair share of go-go bars and the periphery of business that comes along with it. Live bands and slightly more upscale bars and clubs can be found at Chaweng Beach. A more laidback scene is on Big Buddha Beach with western-style ambiance and expatriate-owned establishments.
Full Moon parties on Samui Island are notorious
Even if they haven't attended one, almost every visitor to Koh Samui will hear about the notorious Full Moon parties held once a month on neighbouring Pha Ngan Island. Locals taxi boatloads of partygoers out to this island in preparation for the heart-pounding party that rage all night in honour of the full moon. There's a variety of music playing, and peddlers take advantage of their corner on the market by selling all sorts of souvenirs, food and other ingestibles at exorbitant prices. The popularity of the Monthly Full Moon Parties have led to the addition of further weekend parties to mark less memorable phases of the lunar cycle.
Koh Samui Waterfalls
There are several waterfalls on Samui that many tourists choose to visit. Na Muang Fall 1 flows over a very tall cliff and spills into a rocky pool; while it isn't great for swimming, it makes for wonderful scenery. Its counter, Na Muang Fall 2, is located nearby and is easily accessed by groups of elephant riders and trekkers. Another option is to head to Hin Lat Fall, which is a great place to enjoy a cool, freshwater plunge for a change of pace from swimming in the ocean.
Diving and underwater life in Koh Samui
Koh Samui is a world-class diving destination and the fabulous offshore coral reefs pose a great opportunity for all skill levels. Beginners can enrol in accredited training courses at many dive shops in Bo Phut, Chaweng and Lamai. More skilled divers prefer diving at Sail Rock or Ang Thong National Marine Park, an impressive 40-island archipelago that boasts a pristine natural environment. The ultimate diving destination in Thailand, Koh Tao isn't too far away either.
Daytrip south of Koh Samui
If you seek an escape from the hectic tourism scene, you can head to the south side of Samui island where groves of coconut trees and quiet small fishing towns have staved off the development that has come upon the rest of Koh Samui. It's possible to find a secluded beach to while away some hours, and there are also some unique temples and chedis to investigate.
Adventure sports at Samui Island
Adventure sports are an everyday pastime on Koh Samui. The whole family will appreciate elephant rides in a jungle setting, and multiple agencies can arrange tours. Closer to town, kids will enjoy spending some time at the go-kart track. Samui Shooting Range is located in Chawang, as is the bungee jumping pavilion. The latter sits off the beach road near the Reggae Bar.
Viewing wildlife in Koh Samui
The display of wildlife at Koh Samui ranges from insects and butterflies at the Butterfly Farm to the raging buffalo fights scheduled at local stadiums. There is a snake farm, crocodile farm and an aquarium all on the main Samui island. The nearby Ang Thong National Marine Park has wild gibbons living in lush, jungle surroundings amid quiet lagoons and limestone cliffs.