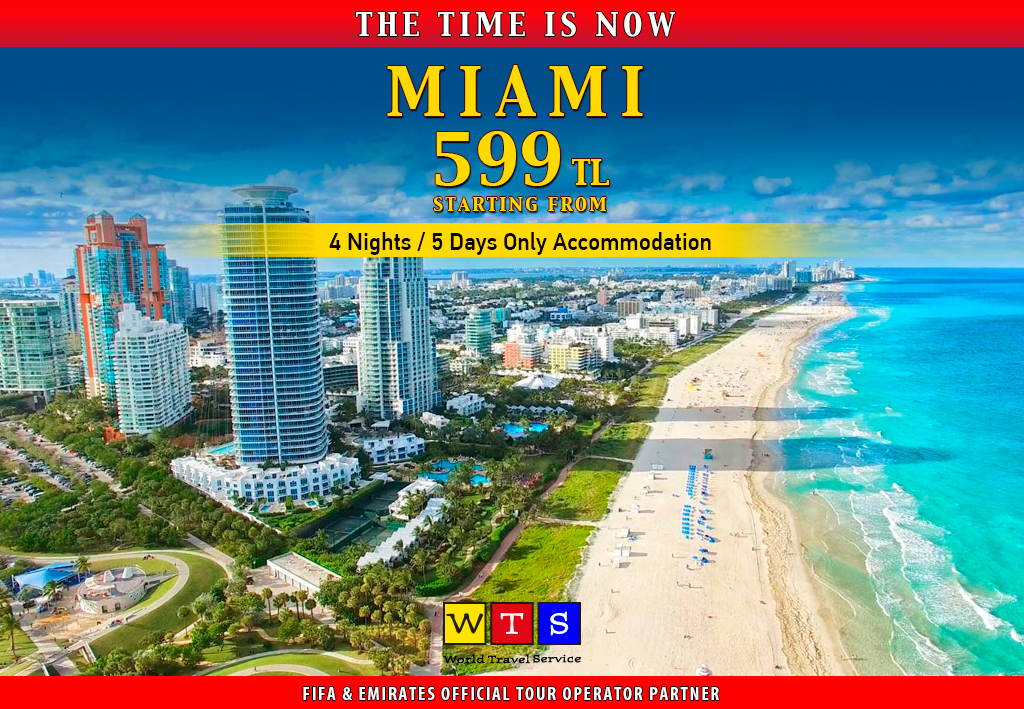 The Turkish lira is constantly losing value against the USD and the EURO and WTS have announced a huge campaign. WTS has began sell the Miami tours for the Americans.
World's famous airline Emirates and FIFA Official Tour Operator Partner WTS, has made a big impact with Turkish Lira campaign.
New vacation campaign: America vacation with the Turkish Lira for Americans
These ads were prepared in English for the citizens of America, England, France, Germany, Spain, Greece, Italy. Wts offers holiday lovers for 5 nights / bed and breakfast accommodation in top destinations of the world with the prices starting from 399 Turkish Liras.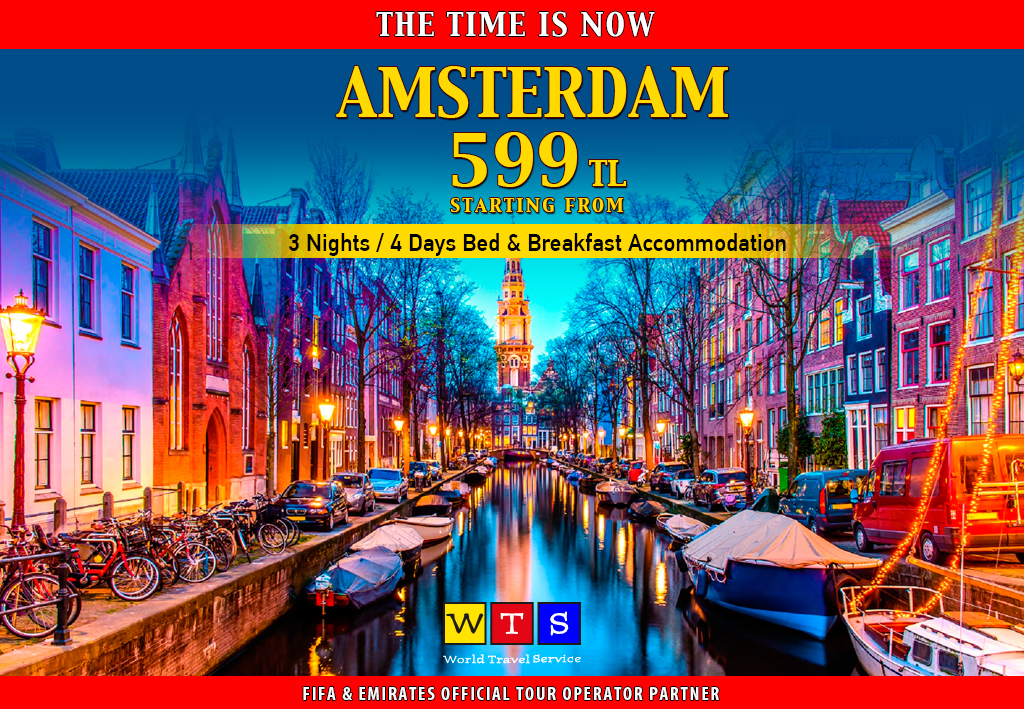 London, Barcelona, ​​Tokyo, Venice, Paris …
There are a lot of famous cities such as Varadero (Cuba), London, Barcelona, ​​Athens, Tokyo, Rome, Venice, Paris, Prague, Amsterdam in this campaign.
WTS organized this campaign not only these cities. Many tropical paradises such as Thailand's tourist attraction Koh Samui, Indonesia's honeymoon island Bali and Goa from India were included in this huge campaign of WTS.
Miami is one of the world's most popular vacation spots for the US society. WTS offers 4 nights 5 days accommodation starting 599 Turkish Liras at the Tropics Hotel in Miami. Also Seagull Hotel in Miami is only 799 Turkish Liras.
4 nights all inclusive holiday in Cuba 999 Turkish Liras!
Cuba's Varadero is in the Turkish Lira campaign of WTS. You can stay for 4 nights at only 999 Turkish Lira in the all-inclusive concept of Cuba's Varadero.
Another "all-inclusive" opportunity for the Turkish Lira campaign is Forest Park Hotel in Halkidiki, Greece.
In Halkidiki's magnificent atmosphere, the price of 3-night all inclusive accommodation starts at 799 Turkish Liras.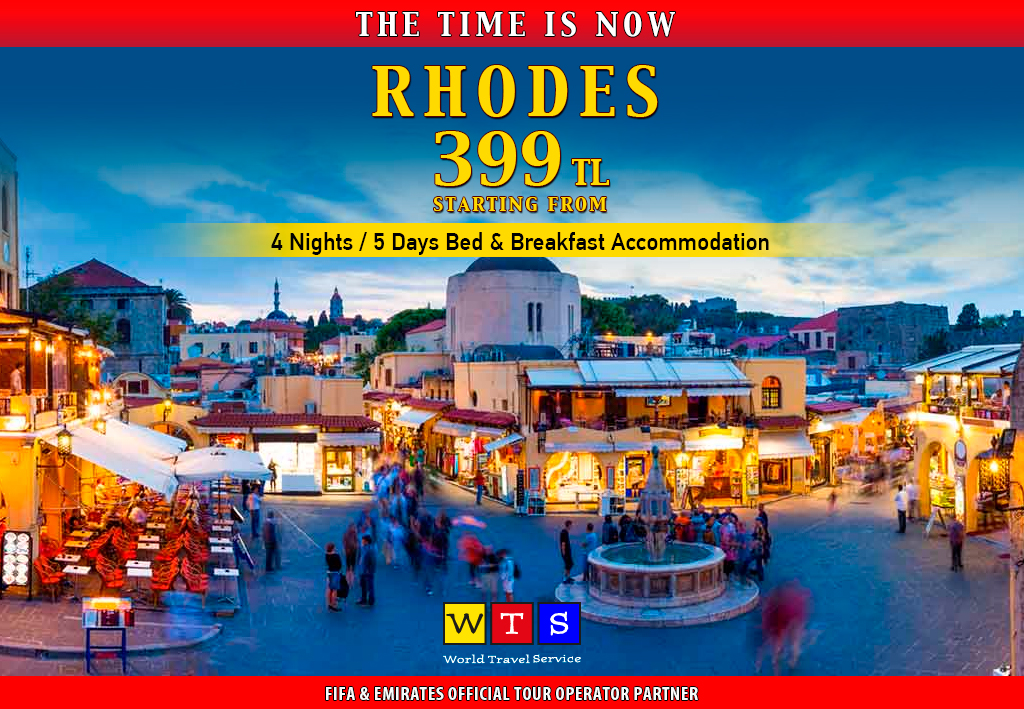 Greek islands in WTS's campaign!
Here is prices of WTS Turkish Lira Campaign:
4 nights bed and breakfast accommodation 299 liras at the Hotel Perla's standard room in neighboring Bulgaria's tourism paradise Varna and 4 nights in Burgas Avenue Hotel is 499 TL..
And you can stay 3 nights Hermes Studios in Rhodes, Silver Beach in Kos , Viyana Hotel Arpi Vienna with 399 Turkish Liras.
Visa-free travel: Phuket, Budva, Sarande, Belgrade
WTS not forget Turkish citizens in its new campaign. WTS's new campaign contains Turkish citizens and with this campaign they can travel many destinations without visa.
Bed and breakfast accommodation at Rex Hotel in Belgrade,The capital of Serbia, is only 499 Liras for 4 nights. You can also stay at the Hotel Piccolino in Sarande, Albania, one of Europe's newest tourist destinations, the same price.
At Oaza Hotel in Budva,famous tourism paradise,4 nights accommodation is 599 TL.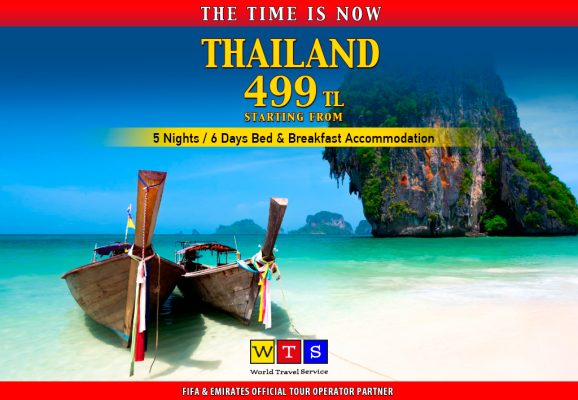 The sky, the sun and the sea…Tropical paradise Phuket is only 499 TL
The biggest campaing of WTS is Thailand's famous Phuket island. The price of bed and breakfast accommodation for 5 nights at the Ibis Hotel in Phuket is only 499 Liras.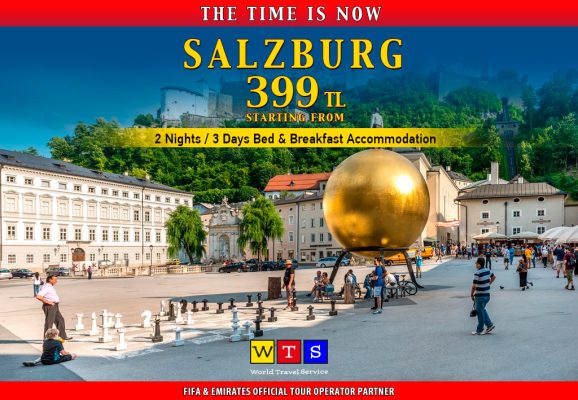 Free to listen Mozart
History, art, culture and modern lifestyle in the city of Mozart…Salzburg, the city of Mozart, is the most important cultural and artistic cities in the world. WTS offers 2 nights bed & breakfasts 399 TL in Salzburg.
WTS gives opportunity to watch Mozart's concert for free for the music buffs.
You can also stay for 3 nights with 499 TL at the Hipotel Paris Bordeaux Menilmontant in Paris.