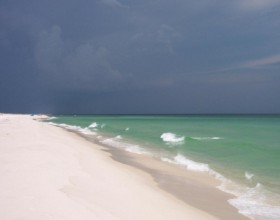 Perdido Key firefighters say two Louisiana tourists drowned at Perdido Key beach and 11 swimmers were rescued off Pensacola Beach.
Authorities say they received a call Tuesday afternoon of swimmers tangled in the beach's strong riptides.
Firefighters found a 46-year-old man on the shore, but CPR couldn't revive the man.
Meanwhile, Escambia Fire-Rescue Lt. Daniel Akerman says a 62-year-old man was found dead and floating in the Gulf.
Lifeguards rescued 11 other swimmers from the rough surf. Reports say the swimmers were not injured.
The two men, whose names have yet been released, were part of a group visiting from Baton Rouge.