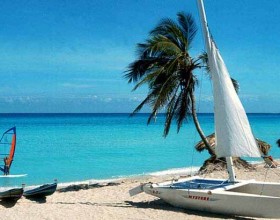 The elite beach accolades went to blissful locations loved by celebrities and discerning tourists alike, situated in destinations such as the Caribbean, Vietnam, Turkey, Australia and Spain.
10. China Beach, Danang, Vietnam
This idyllic 20-mile stretch of beach near the coastal city of Da Nang has plenty of negative history but nowadays the views are gorgeous and the facilities excellent. In fact the American soldiers airlifted here for R&R wouldn't recognise the place.
9. Nikki Beach, Marbella, Spain
Nikki Beach can be found in the chic Spanish resort of Marbella, one of the leading locations for jet-set living in Spain, and this luxury beach club brand is renowned as "the sexiest place on earth".
Sun worshippers can soak up the Mediterranean sunshine on the Balinese sun beds while foodies tuck into the very best of beachside dining – all played out against a utopian backdrop of swaying palms, alcoves of teepees and exotic bamboo beds.
8. Akyarlar Beach, Bodrum, Turkey
Forbes magazine has called Akyarlar beach on the Bodrum peninsular one of the most luxurious beaches in the world with white powdery sand and great windsurfing.
It's a 45-minute flight from Istanbul to Turkey's Aegean coast and Bodrum's nightlife is legendary.
7. Bahia Beach, Trancoso, Brazil
The area of Bahia on Brazil's east coast is one of the best places to head to enjoy miles and miles of the country's beautiful coastline, with its lush rainforest backdrop.
The beaches here are long, broad and lined with coconut trees. The beach slopes gently into the water, making it ideal for swimming and family holidays. The barracas huts that serve food and drinks day and night are an attractive feature of Brazilian beaches.
6. Castelo Beach, Albufeira, Portugal
For those looking for a quiet beach holiday in Portugal's popular Algarve, Castelo Beach is perfect. Just a little bit isolated and made up of a series of small cove beaches, Castelo is also well known for its amazing rock formations.
The ruined castle on the headland gives the beach its name and has been converted into a restaurant. There are stunning coastal walks and a number of lovely hotels and villa accommodation. The Algarve resort town of Albufiera is eight kilometres away for nightlife and shopping.
5. Bondi Beach, Sydney, Australia
Bondi has to be one of the world's most famous beaches, with its Australian surfing culture and upmarket shopping and hotel choices.
The great sandy beach has grown into a modern and trendy coastal resort with plenty of cafes and restaurants so you can watch the world go by on the promenade.
4. Grace Bay Beach, Providenciales, Turks and Caicos
Clear blue water, white sand beaches and perfect sunny skies – everything you dream of in a beach holiday. The Islands of Turks and Caicos are in the North Atlantic Ocean and askmen.com describes Grace Bay as like the Caribbean but without the obnoxious tourists.
Luxury hotels and villas with top spas and fine restaurants complete the package on this beautiful, uncrowded beach.
3. Las Minitas Beach, Casa de Campo, Dominican Republic
The pristine La Minitas Beach in the Dominican Republic is only a ten-minute shuttle bus ride away from Casa de Campo resort and is filled with bars and restaurants.
There are plenty of water sports opportunities with kayaks, windsurfing and paddleboats, and you can even have a massage right on the beach.
2. Pink Sands Beach, Harbour Island, Bahamas
Renowned for its pink sand beaches, this is the best beach area in the Bahamas. The famous three-mile pink sand beach is the place to go for natural beauty and water that is perfect for swimming year round.
After a day on the beach swimming and snorkelling, watch the sunset from the deck of one of the bayside restaurants.
1. Plage de Pampellone, Saint Tropez, France
Decadent and trendy, Saint Tropez is one of the most famous beach spots in the world and the Plage de Pampellone is the best beach in Saint Tropez.
This historic nude beach is in a magnificent location and with busy and energetic cafes and sun worshippers on the white-sand shoreline, this is the place for a glamorous South of France beach holiday.