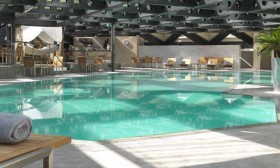 Grand Hotel Kempinski Geneva is preparing to open their new SPA in June.
The news was announced in a cocktail hosted by Armağan Yolcu and Burcu Can, where members of the tourism industry came together.
During the cocktail, Nicolas Chatellain, Sales Director of Grand Hotel Kempinski Geneva, did a presentation where he announced that a new SPA will be opening in June at Kempinski Geneva.
Kempinski Hotels which are known for luxury rooms, facilities and high quality services are not only planning and developing new projects but are also refurbishing their hotels around the world.
The Hotel chain which has facilities in Asia, Europe and Africa are constantly developing new projects to further expand. The chain which has 3 hotels and two residence in Turkey, are planning to develop and open more then 44 hotels by 2012.
Nicolas Chatellain said at the presentation held at Ciragan Palace Kempinski, Istanbul, Turkey, that "The new SPA which will be opening in June 2010 at Grand Hotel Kempinski Geneva will carry on making it's guest spend their time in luxury,"
Chatellain continued "The SPA has been built on a 1400 m2 (square meter) area and will also house a sauna, swimming pool, jacuzzi, yoga, fitness centre and many more services which our guests can use."
Chatellain also emphasised that the SPA is essential to keep Kempinski as a brand and carry on giving guests the best services.
[adrotate group="21″ banner="23″]