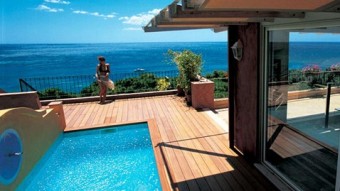 Are you a high-end traveler, then Italy's Sardinia island is where it's at for ultra-expensive luxury hotels. The recent report of Luxury-Hotels.com, a luxury-hotel booking site, ranked the world's priciest luxury hotels.
NationalTurk online newspaper reports that Sardinia, Italy, is home to five of the top 11 expensive luxury hotels. Nations openly absent from the list of the world's most expensive hotels: France, England, the United States and the entire Caribbean region fail to make into the list. Only hotels with a minimum of 20 rooms were considered in the top 10 list of most expensive hotels of the world.
The world's most expensive hotel is Le Dune, Forte Village Resort in Sardinia, with an average rate this summer of $2,539 per night. For a standard double room.
It's located in Santa Margherita di Pula, a seaside resort along Sardinia's southern coast. Le Dune was significantly more expensive than the runners-up, the Royal Mansour in Marrakech, Morocco, and the Hotel Pitrizza in Sardinia's Porto Cervo.
There, average rooms are going for $2,060 and $2,041 per night, respectively, this summer. Only hotels with a minimum of 20 rooms were considered.
The rankings are based on the hotel's average rates for a standard double room, June to August 2012. The dollar figures reflect the minimum amount a visitor had to spend to stay at a particular hotel.
Sardinia is a Mediterranean island accessed by air and ferry from Italian mainland also from Cote d'Azur. July and August are the high season, which is likely some of the driving force behind the exceptionally high luxury hotel rates. Consider visiting in May or September for lower prices, fewer crowds and still-lovely weather.
Most expensive hotels of the world list 2012 :
Rank Hotel Location Avg. rate/ night
1. Le Dune, Forte Village Resort Sardinia, Italy $2,539
2. Royal Mansour Marrakech, Morocco $2,060
3. Hotel Pitrizza Sardinia, Italy $2,041
4. Villa del Parco Sardinia, Italy $2,031
5. Amankora & Spa Paro, Bhutan $1,910
6. Hotel Cala di Volpe Sardinia, Italy $1,904
7. Hotel Romazzino Sardinia, Italy $1,850
8. Maia Luxury Resort and Spa Anse Louis, Seychelles $1,692
9. Southern Ocean Lodge Kangaroo Island, Australia $1,665
10. Lizard Island Great Barrier Reef, Australia $1,651
11. Song Saa Private Island Preah Sihanouk, Cambodia $1,649