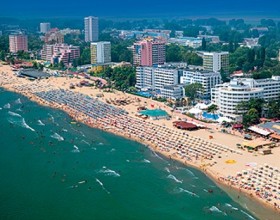 Bulgaria's largest Black Sea city of Varna is a more popular tourist destination than the country's second largest Black Sea city of Burgas.
This becomes clear from data announced Thursday by the Territorial Statistical Bureau in Varna.
Even though the Varna District, which occupies most of Bulgaria's northern Black Sea coast, has fewer hotels and accommodation spots, and fewer beds, it attracted more visitors than the Burgas District, which takes up Bulgaria's entire southern Black Sea coast, in the second quarter of 2009.
The Varna District has a total of 403 accommodation establishments (hotels, motels, camping sites, etc) with 53 448 beds. It registered 231 000 hotel stays in April-June 2009.
This is 10,1% more visitors than the 209 800 hotel stays in the Burgas District, which has 870 accommodation spots and 85 649 beds.
Bulgaria's third district bordering on the Black Sea, the Dobrich Districtm, registered a total of 47 800 hotels stays in the second quarter of 2009.
Thus, the country's three Black Sea districts registered almost 500 000 hotel stays compared to a total of 1 156 200 hotel stays for the entire country for April-June 2009.
The Burgas District's revenue from hotel stays totaled BGN 41,2 M in the above-mentioned period, compared to BGN 40,7 M for the Varna District, and BGN 8,9 M for the Dobrich District. This is over BGN 90 M for the Black Sea regions compared to BGN 155,6 M for Bulgaria in total.
The average number of nights a person remained at an accommodation establishment in the Varna District was 4,3, compared to 5,4 for the Dobrich District, and 5,9 for the Burgas District.
In the second quarter of 2009 Bulgaria registered 236 212 fewer hotel stays than in the same period of 2008. The number of hotel stays of foreign tourists has declined by 20% (UK tourists – 49% decline, Israel – 44%, Germany – 30%, Russia – 5,9%; Romanians visitors have increased by 13,3%).