Mauritius sees tourism resurging this year
18 Şubat, 2010 | 10:13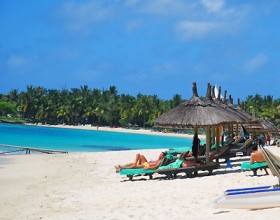 Mauritius expects its tourism industry to recover in 2010 on the back of higher visitor numbers after the island, one of Africa's best tourism performers, has weathered the crisis better than expected.
"Based on data available on tourist arrivals and information gathered from stakeholders, it is expected that tourist arrivals for the year 2010 would be around 915,000, representing an increase of 5 percent over the figure of 871,356 in 2009," the Central Statistics Office said in a statement on Thursday.
The Indian Ocean island's tourism revenue for the year is forecast at around 40.1 billion rupees, up over 12 percent on the 35.6 billion generated in 2009.
Long-haul luxury destinations have suffered as the financial crisis and the ensuing economic slowdown changed consumer spending habits.
Mauritius, which is best known for its azure waters, white beaches and luxury spas, has pursued an aggressive international marketing campaign, while its hotels have offered heavy discounts as it fights for market share.
Arrivals from Europe in 2009 fell 4.7 percent to 579,509 led by a 16.6 percent decline in German arrivals, a 14.6 percent drop in Italian arrivals and a 5.5 percent fall in British visitors.
Note: Your comment will be viewable after approval.
Mauritius, Mauritius 2010, Mauritius Holiday, Mauritius Honeymoon, Mauritius News, Mauritius Tourism News, Mauritius Travel,