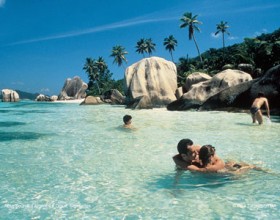 The Seychelles represent the perfect luxury destination, thanks to its warm climate, exquisite beaches and some stunning natural scenery – meaning that Seychelles holidays are likely to offer an unforgettable experience.
Some 115 islands make up the Seychelles, with the main ones being Mahe, Praslin and La Digue. Scattered like jewels off the east coast of Africa, each island has its own attractions – mainly wide expanses of sand thankfully free of crowds of tourists.
Mahe holidays offer more to do than simply lie on the beach – not that that is a pastime to discourage – due to Mahe being the largest of the Seychelles islands and being home to the republic's capital, Victoria.
Some 90 per cent of the overall Seychelles population live on Mahe, which is a mainly granitic island featuring mountain scenery and a wealth of exotic flora and fauna.
It also hosts a variety of sites of religious, historical and natural interest, such as the Cathedral of Our Lady of Immaculate Conception, the Domaine de Val des Pres craft village and the Morne Seychellois National Park.
Elsewhere, Praslin holidays also have much to offer those in search of some sun-soaked luxury for their next break. The second largest of the Seychelles islands, it is located north-east of Mahe and is home to the Vallee de Mai nature reserve, which is a UNESCO World Heritage site.
The Praslin Museum is another interesting attraction on the island, which displays artefacts relating to the traditions and culture of the Seychelles, as well as enabling visitors to take part in activities such as coconut de-husking and grilling breadfruit.
La Digue, another popular destination for travellers on Seychelles luxury holidays, is located close to Praslin and is home to must-see creatures such as the ultra-rare black paradise flycatcher, the Chinese bittern, the cave swiftlet, the waxbill and two rarely seen species of terrapin.
The island is known for its laidback atmosphere and is likely to suit those looking for some truly relaxing Seychelles holidays in a setting that eschews the fast pace of modern life in favour of more leisurely traditions and customs.