Basaran Ulusoy elected again as TURSAB President
07 Aralık, 2009 | 14:27
The 19th General Assembly of TURSAB – Association of Turkish Travel Agencies was held in Istanbul last weekend. Basaran Ulusoy re-elected to the Presidency for the sixth time.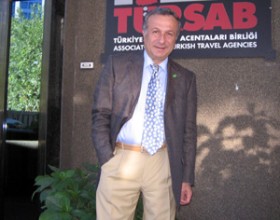 The 19th General Assembly started on Saturday, December 5 at Istanbul Convention and Exhibition Center. About a thousand of TURSAB members attended the General Assembly which was also honored by the Turkish Culture and Tourism Minister Ertugrul Gunay, Turkish Culture and Tourism Promotion Director Cumhur Güven Tasbasi, TUROFED President Ahmet Barut, TYD President Turgut Gur, TUREB President Serif Yenen.
The General Assembly started with a video presentation of TURSAB; showing what has been done by the association since the last general assembly. TURSAB President Basaran Ulusoy made the opening speech. Mr. Ulusoy said that Turkey got out of crisis with success, adding that Turkey will be the shining star of world in tourism industry in years of 2010 and 2011.
The General Assembly ended on Sunday, December 06, 2009 by the election of Basaran Ulusoy as continued President of TURSAB. According to the announcement made by County Election Board; 1317 members voted from a total of 1951 General Assembly members. 1280 of the total votes are counted as valid while 37 of them are invalid. Basaran Ulusoy received 974 of the votes; Serhad Uslan got 319; while 268 votes counted for Polatoğlu Cem.
Note: Your comment will be viewable after approval.
Basaran Ulusoy, Basaran Ulusoy News, Basaran Ulusoy TURSAB, Basaran Ulusoy TURSAB President, Polatoğlu Cem, Serhad Uslan, Tourism Minister Ertugrul Gunay, TUREB President Serif Yenen, Turkish Culture and Tourism Promotion Director Cumhur Güven Tasbasi, TUROFED President Ahmet Barut, TURSAB Basaran Ulusoy, TURSAB General Assembly, TURSAB President Basaran Ulusoy,