The flight attendants at American Airlines Inc. are a long way from striking, but the Association of Professional Flight Attendants tried Wednesday to give passengers an idea of what a work stoppage would look like.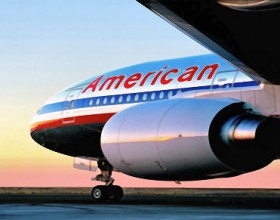 The union staged picket lines and a simulated strike at Dallas/Fort Worth International Airport and across the country to show it was serious about getting a better contract.
"This is only a symbolic demonstration," union president Laura Glading said outside a D/FW terminal. "All American Airlines flights today will operate, and we pledge not to disrupt travel during the holidays. In fact, we encourage the public to fly on American Airlines."
But if the union and airline don't make progress during their next round of contract talks in January, Glading said, the union may ask the National Mediation Board to release the union from mediation and start the legal process that could result in a strike.
American and the APFA began talks in mid-2008. American spokeswoman Missy Latham said the two sides have reached agreement on 72 percent of the items up for discussion, while Glading castigated the carrier for not making an offer on wages and benefits.
"The company has been preaching that any new contract must be zero sum, meaning that any improvements must be offset by further concessions," Glading said. "This is unacceptable."
Latham said American flight attendants "already receive near industry-leading pay and benefits."
"We are committed to continue working with APFA to reach a new contract that recognizes flight attendants' service and dedication while positioning our company for long-term success by improving productivity," she said.
Joining Glading on the picket line were the leaders of American's two other major unions – the Allied Pilots Association, led by president Lloyd Hill, and the Transport Workers Union, led by John Conley, director of the union's air transport division.
The mock strike Wednesday, the 16th anniversary of the start of the union's 1993 strike, had flight attendants on designated flights wear red buttons. That was to show that those flights would not have operated if the union had called a selective strike that disrupted some, but not all, flights.