Air India New Delhi Flights Disrupted Today by Strike
28 Eylül, 2009 | 10:28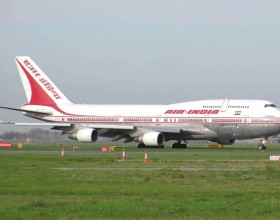 Air India, the state-run carrier, said operations in New Delhi would likely be disrupted for most of the day after pilots went on strike.
Normal service may resume this evening or early tomorrow morning, spokesman Jitender Bhargava said by phone today. Services in Chennai will resume by 11 a.m., he said.
Less than a third of the carrier's domestic operations have been affected by the strike, which followed a Sept. 23 announcement about cuts in incentive-linked pay for pilots and managers. The carrier is transferring stranded passengers onto other airlines' services, Bhargava said.
Today, less than 3,000 travelers will be affected by the disruptions as it is a public holiday in India, which has damped travel demand, he added.
International services including flights to the U.S., Europe, Japan and South East Asia are unaffected by the dispute, Bhargava said.
New Delhi is expected to be the last city to see operations return to normal, he added.
Note: Your comment will be viewable after approval.
Air India, Air India Express, Air India Express News, Air India News, New Delhi, New Delhi Tour, New Delhi News, Tourism News,